Available paintings by Cherylene Dyer. Please click on the thumbnails for more images and full information.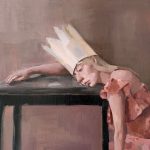 Sold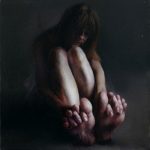 Sold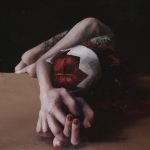 Sold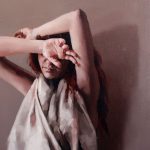 Sold
Cherylene Dyer
Cherylene Dyer was born and brought up in Dumfries in the Scottish Borders. She moved to Glasgow to Study Drawing and Painting at Glasgow School of Art, and has lived there ever since.
She says: "Subject matter for me has always centred around the human form. I like my subjects to appear mysterious and ambiguous, complete in their own worlds. My models are singers, dancers and actors which are evidently reflected in my work. I'm concerned with emotion and atmosphere which creates my expressive but realistic style."
Prizes and Awards
2016 National Open Art, Turtleton Trust Award
2015 Paisley Art Institute, the Glasgow Art Club Award
2013 Nominated for Figurativas13, figurative art prize, Barcelona
1999 Royal Glasgow Institute, City of Glasgow award
Selected Exhibitions
Paisley Art Institute, annual exhibition 2017, 2015, 2014
Royal Glasgow Institute, annual exhibition 1999-2016
National Open Art Awards, London 2016
Thompson Gallery, Marylebone, London 2006-2008