Available paintings by Sarah Margaret Gibson. Please click on the thumbnails for more images and full information.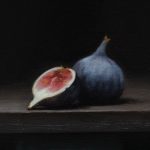 Sold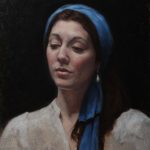 Sold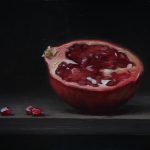 Sold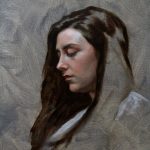 Sold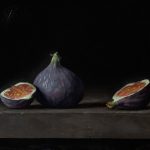 Sold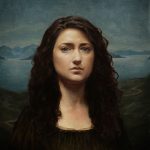 Sold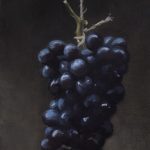 Sold
Sold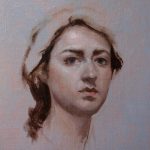 Sold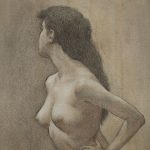 Sold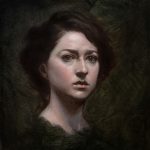 Sold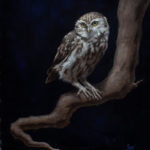 Sold
Sarah Margaret Gibson
Sarah Margaret is a contemporary realist artist, specializing in figurative works, portraits, and still-lives. Characterized by a rich tenebrism, Gibson's work often dramatically juxtaposes light against shadow. She believes that light, and all of its symbolic qualities, are better appreciated when contrasted against dark. Building up her paintings from a series of many fine layers, she seeks to give her works a palpable depth and complexity, so that the viewer can continually find new details and facets to contemplate upon each viewing. Through her drawings and paintings, Gibson opens up a dialogue with nature, responding to what she finds beautiful and endeavoring to communicate this with her viewers.
In 2008 Sarah Margaret travelled to Florence, Italy to receive her formal training in drawing and painting from the Angel Academy of Art and The Florence Academy of Art. Over the course of her seven years in Florence, Gibson became profoundly influenced by the work and philosophy of the Old Masters and by the mentorship of great living artists such as Daniel Graves, founder of the Florence Academy. She taught at the Florence Academy's intermediate studio from 2012-2015.
In 2015 Sarah Margaret moved to the west coast of Scotland, alongside her husband and fellow artist, Lee Craigmile. Together they opened the Glasgow Academy of Fine Art in 2019, where Gibson is acting as Academic Director. The Academy is an atelier-style school, which teaches traditional methods of representational drawing and painting.
Gibson's work is shown throughout the U.S. and Europe and can be found in the New Britain Museum of American Art and in numerous private collections.
Education:
2010-2014 The Florence Academy of Art
2008-2010 Angel Academy of Art, Florence
2008 University of Cambridge Summer Schools, Art History Program
2007-2008 Maryland Institute College of Art
2006 Carnegie Mellon Summer Institute, Drawing and Painting
Solo Exhibitions:
2018 Form and Atmosphere: the Recents Works of Sarah Margaret Gibson and Lee Craigmile, The Mary Ran Gallery, Cincinnati OH
2015 The Recent Work of Sarah-Margaret Gibson, The Mary Ran Gallery, Cincinnati OH
2014 Reflections of Florence: the Drawings and Paintings of Sarah-Margaret Gibson, The Mary Ran Gallery, Cincinnati OH
2013 The Work of Sarah-Margaret Gibson, The Mary Ran Gallery, Cincinnati OH
2011 Meet the Artist and her Work, Brian Gibson Antiques, Cincinnati OH
Group Exhibitions:
2019 'Small Paintings', Morningside Gallery, Edinburgh UK
2018 'Unwrapped', Thistle Gallery, Glasgow UK
Postcards Exhibition, Roger Billcliffe Gallery, Glasgow UK
2017 Postcards Exhibition, Roger Billcliffe Gallery, Glasgow UK
2016 Still Life Exhibition, Mary Ran Gallery, Cincinnati OH
2015 Girls' Night Out, Art Design Consultants ADC Inc., Cincinnati OH
Grand Opening Exhibition for the Florence Academy ofArt, U.S., Mana Contemporary, Jersey City NJ
2014 Portraits, Mary Ran Gallery, Cincinnati OH
Represent 2014, The 20th Century Theatre, 291 Westbourne Grove, London, UK
2013 Annual Alumni Art Show, The Seven Hills School, Cincinnati, OH
2012 The Florence Academy of Art Sixth Alumni Exhibition, Palazzo Corsini, Florence, Italy
2010 Annigoni's Legacy, The Villa Bardini, Florence, Italy
Interlochen Arts Camp Faculty and Staff Exhibition, Interlochen, MI
Annual Alumni Art Show, The Seven Hills School, Cincinnati, OH
2009 The Art of Sei Divino Wine Bar, Student Exhibition, Florence, Italy
Angel Academy of Art Annual Student Exhibition, Florence, Italy, Group Juried Show
Interlochen Arts Camp Faculty and Staff Exhibition, Interlochen, MI
2008 Angel Academy of Art Annual Student Exhibition, Florence, Italy, Group Juried Show
Awards and Honors:
2015 Painting Les Fleurs du Mal received into the permanent collection of the New Britain Museum of American Art
2013 Second Place Winner of the Art Renewal Center's Annual Scholarship Competition
Winner of Art Comes Alive 2013 "Still Life Artist of the Year" Award
Awarded the "Fourth Year Scholarship Prize" by the Florence Academy of Art
Featured in the French television documentary, "Le Gran Tour"
Accepted into the Hudson River Fellowship for landscape painting
2012 Article entitled "On Process" published in Composite Arts Quarterly Magazine
2011 Third Place Winner of the Art Renewal Center's Annual Scholarship Competition