Available paintings by Iain Holman. Please click on the thumbnails for more images and full information.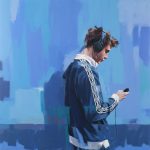 Sold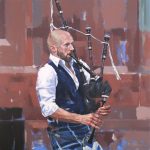 Sold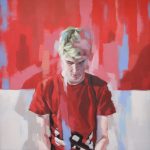 Sold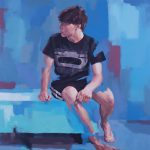 Sold
Iain Holman Artist
Iain Holman is a Scottish portrait and figurative artist, born in Inverness and now working from his studio in the village of Crawford, South Lanarkshire.  He graduated with a Masters Degree in Fine Art from the Open College of the Arts (UCA) in 2016, and is now exhibiting in selected galleries in Glasgow, Edinburgh, Stirling and Dublin.  His work was also on show at the Mall Galleries in London and he has appeared in a number of art publications.
Iain's work is driven and shaped by the enduring fascination with the human form, often portraying his subjects as lone figures in confined spaces.  He blends realism with abstraction, using oils on canvas to create expressive and painted patterned images, that are both structured and immediate.  His inspiration is found around him and is of the moment; reacting to the time he is living in today and recording his experiences as a visual diary.