Available paintings by Grace Cameron. Please click on the thumbnails for more image and full information.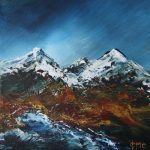 Sold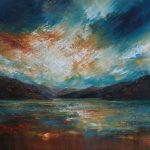 Sold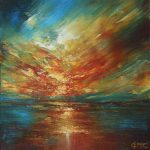 Sold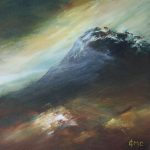 Sold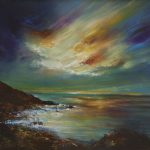 Sold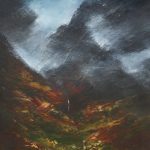 Sold
Grace Cameron
Grace Cameron graduated in Fine Art Printmaking from Duncan of Jordanstone in 2000, and produced a series of successful works inspired by ancient rock art and Celtic history. As a direct result of this work she was awarded the Angus Council Commission and stayed on at Art College for another year on a work placement.
After college she was involved in a number of art projects and workshops with adults and children of all ages. She also worked for three years in schools with children with special needs. She then spent three years at Dundee College as an art tutor with the children's Arts and Crafts class.  In 2008 she decided it was time to concentrate fully on her own work.
Inspired by the colours, textures, patterns and a pure love of Scotland and it's natural beauty, she tries to capture the ethereal and ever-changing light and atmosphere of the landscape. She paints mostly in acrylics using palette knives, hake brushes and at times, just her fingers. She tries to bring energy and movement into the work by building up layers of paint that makes for a textural surface. Then the magic begins – the painting starts to emerge and sometimes it is like the painting has almost painted itself.