Available paintings by Jennifer Anderson. Please click on the thumbnails for more images and full information.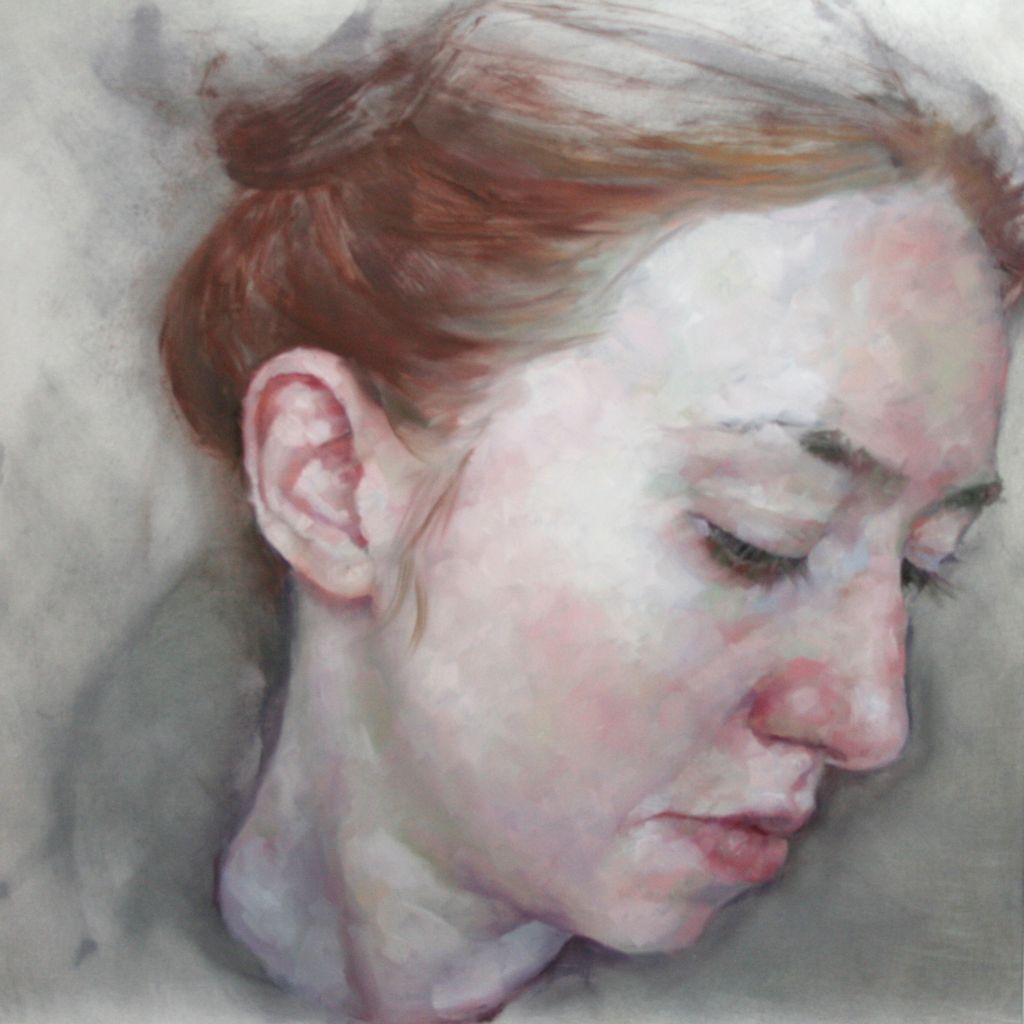 Sold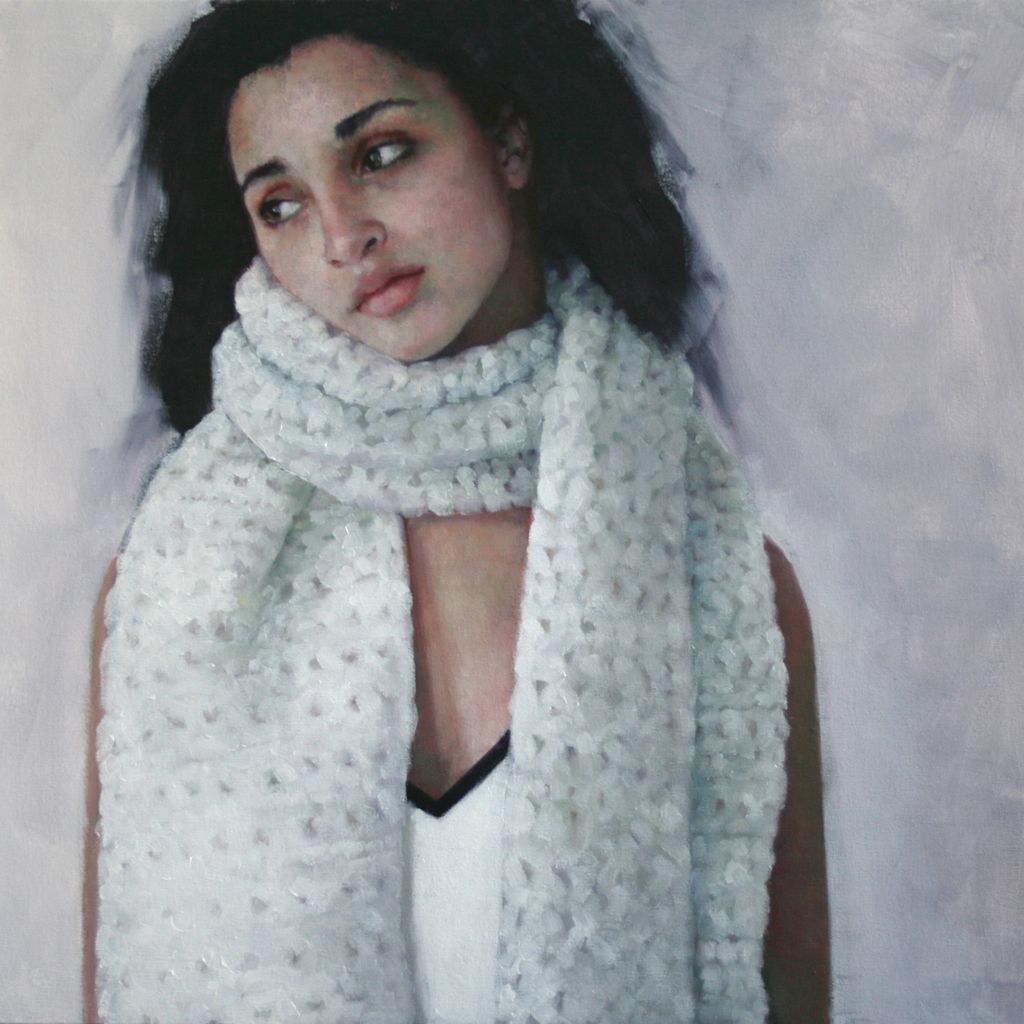 Sold
Jennifer Anderson Artist
Jennifer was born in Glasgow and grew up just outside the city, in rural Stirlingshire. She attended Duncan of Jordanstone College of Art, Dundee, from which she graduated in 1997 with a first class honours degree in fine art painting at the age of 21.
Since then she has returned to Glasgow and continues to live and work in the city's West End. She has exhibited widely throughout the UK, and has also shown work internationally in New York, Singapore, Florida, Zurich, and Toronto.
During her career Jennifer has recieved a number of awards including the HSBC Investment Managment Award for artists under 35 at the Royal Society of Portrait Painters, and the David Cargill award at the Royal Glasgow Institute.  She has been regularly selected  for the BP Portrait Award and has also been invited to exhibit in the main collection at the National Portrait Gallery, London.

"Jennifer Anderson combines clear-eyed examination with formidable illusionistic skill, producing sensitive, haunting portraits. Within tightly-cropped compositions, illuminated by unsparing mid-winter light, she conveys the real, weighty physicality of her subjects while at the same time hinting at the inaccessibility of their inner lives. Anderson's subjects seem to balance their own reserve, their self-sufficient presence, against the artist's sustained scrutiny. Surfaces - a creased white shirt, scraped-back jet-black hair, or the slope of a cheek bone - are described fluently, the restrained palette emphasising subtle tonal shifts. These haunting images explore the limits of what we can learn from observation - even observation of those whom we see often and know well - something which gives Anderson's work a universal quality transcending most individual portraiture."
Bunny Smedley, critic and historian
Education
1993-97 Duncan of Jordanstone Collage of Art, Dundee:
BA (Hons) Fine Art - First Class
Solo exhibitions
2018 Beaux Arts Gallery, Bath
2015 Flying Colours Gallery, London
2007 "Skin Deep", Maclean Fine Art, Cork St, London
2005 artLondon Art Fair with Maclean Fine Art
2003 artLondon Art Fair with Maclean Fine Art
2000 The Gatehouse Gallery, Glasgow
1998 The Gatehouse Gallery, Glasgow

Selected group exhibitions
The BP Portrait Award, The National Portrait Gallery, London 2001/04/05/09
​The Royal Academy Summer Show, Piccadilly, London, 2006
The National Portrait Gallery, London, General Exhibition, 2005
The Royal Society of Portrait Painters, Mall Galleries, London, 2005/06/14/16/18
The Royal Society of British Artists, Mall Galleries, London, 2018
The Royal Scottish Academy , The Mound, Edinburgh, 1998/00/01/08/12/14/16/17
The Royal Glasgow Institute, Maclellan Galleries, Glasgow, 2001/06
The Royal Birmingham Society of Artists, Birmingham, 2014
The S.A.A.C., The Mound, Edinburgh, 1998,
'Fresh Paint', with Maclean Fine Art at the Arndean Gallery, Cork Street, London, 2001/02
Art fairs
artLondon Art Fair, Chelsea , London with Maclean Fine Art/Cameron Fine Art, 2003/05/07/11/12/15
The London Art Fair, Islington, London with Maclean Fine Art/Flying ColoursGallery, 2002/04/06/07
The British Art Fair, Chelsea , London with Flying Colours Gallery/Beaux Arts, 2003/11/12/15
Torronto International Art Fair, Toronto with Odon Wagner Fine Art, 2007
The Affordable Art Fair, Manhatten , New York with Flying Colours Gallery,2002
The Affordable Art Fair, Singapore, with Panter and Hall Gallery, 2012
The Affordable Art Fair, London with The Gatehouse Gallery/Cameron Fine Art, 1999/00/04/05/11/12/13/15
The Glasgow Art Fair, Glasgow with the Gatehouse Gallery/Maclean Fine Art/Flying Colours/Cameron Fine Art 1998-06/10/11/12
The Affordable Art Fair, Bristol with Cameron Fine Art 2011/12/13
Galleries
Beaux Arts Gallery, Bath
Maclean Fine Art, London
Flying Colours Gallery, London
Panter and Hall, London
Cameron Contemporary Art, Brighton
The Last Gallery, Zurich
Odon Wagner Fine Art, Toronto
Balatro Fine Art, Palm Beach, Florida
The Gatehouse Gallery, Glasgow
The Compass Gallery, Glasgow
Art Exposure, Glasgow
Full Circle Gallery, Glasgow
The Edinburgh Gallery, Edinburgh
Flying Colours Gallery, Edinburgh
Awards
The Royal Society of Portrait Painters HSBC Investment Management Award
The Royal Glasgow Institute David Cargill Award
The Royal Society of Portrait Painters Arts Club Prize
The National Open Art Competition Regional Prize for Scotland and the North
The George Duncan of Drumfork Travel Scholarship
The Ewan Mitchell Award for Figurative Painting
The Royal Glasgow Institute Strathearn Gallery Prize
The Paisley Art Institute Miller's Creativity Award
The Paisley Art Institute Glasgow Arts Club Award
The Lady Artist's Club Trust Award
Notable portraits
Sir Curtis Price, Warden of New College, Oxford University
Dame Prof. Frances Kirwan, Magdalen College, Oxford University
Dame Prof. Hermione Lee, President of Wolfson College, Oxford University
Neil MacGregor, Director of the British Museum and Dr Thomas P. Campbell, Director of the Metropolitan Museum, NY
Dr Wilson Sutherland, Acting Warden of New College, Oxford University
Mr Mervyn Rolfe, Lord Provost of Dundee
Dr Ian Graham-Bryce, Principal of Dundee University